Call Center Assessments Provide Predictive Science to Pick the Right People
People who succeed as customer service representatives come in all shapes and sizes; however, they are often successful for many of the same reasons. 
Our suite of Call Center Assessments (called ContactCenter) predict potential in contact center (inside sales/service centers) roles:  ContactCenterPOP™, ContactCenterLeaderPOP™, ContactCenterScreen™, ContactCenterSimulation™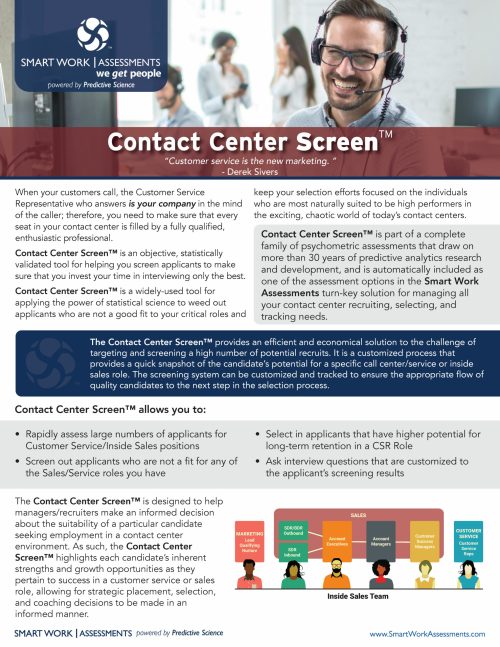 It takes a very special person to manage today's fast-paced, multi-channel contact centers. And you don't have time—or money—to waste, searching for the right individuals to lead your customer service organization. Contact Center LeaderPOP™ helps you hire only top-performers for your contact center management team using the predictive power of statistical science.
Contact Center Screen™ is an objective, statistically validated tool for helping you screen applicants to make sure that you invest your time in interviewing only the best. When your customers call, the Customer Service Representative who answers is your company in the mind of the caller; therefore, you need to make sure that every seat in your contact center is filled by a fully qualified, enthusiastic professional.
Contact CenterSimulationPOP
Looking for superior customer service agents? Hire only the best—let Contact Center SimulationPOP™ screen out the rest! You understand exactly how important your Contact Center staff is when it comes to maintaining strong, positive relationships with your customers. 
If you are like most Call Center organizations today, you need to distinguish between those sales and service agents who are most likely to be successful in a diversity of roles within your Inside Sales and Service Organization. The Contact CenterPOPTM is a statistically reliable, and predictive assessment that will help you do just that.